The Seattle-Tacoma International Airport recently debuted its first multiuser, all-gender restroom – to the shock and disappointment of many female travelers. The airport, owned by the Port of Seattle, hoped the restroom would improve its public amenities and increase "equity, diversity and inclusion," but in reality, it is compromising womens' safety and privacy.
The sign at the entrance reads: "This All-Gender Restroom is a safe space for you, regardless of gender identity," but in fact, it has become the exact opposite of a "safe space" for female users. Countless women have become targets of violence and privacy invasions in "all gender" changing rooms, and in stores like Target where biological men are allowed to enter female restrooms. Why do administrators at the Seattle airport think this will be any different? Predators will use any opportunity to victimize women and children, and this is another door the Seattle airport is opening to them.
Airport administrators may try to downplay the purpose of the new gender-inclusive restrooms – saying they are for mothers with children or elderly individuals with caretakers – but we know the truth: it's a push to normalize and accept transgenderism and the idea that there are more than two genders, and that those genders are interchangeable. The bathroom entrances are even decorated with artwork from LGBT+ artists, driving that point home.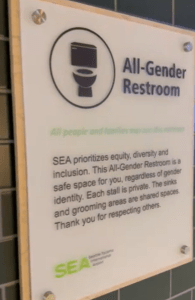 This all-gender restroom has prioritized the comfort of a small minority of delusional individuals over the safety of real women who simply want privacy from men when they're in the bathroom.
While the airport does offer other single-gender restrooms, it doesn't minimize the political importance or reality of this situation. This "all-inclusive" mindset is where America is headed unless common-sense reforms are enacted to protect women and children. The woke mob is attacking America's foundation of decency and normality, and it's putting our most vulnerable populations at risk.